EXODUS MANDATE-WV
---
Goals and Objectives | Christian Education | Resources for teaching| WV News | Articles
---
West Virginia News
"If parents in each generation always, or often, knew what really goes on at their sons' schools, the history of education would be very different." (C. S. Lewis, Surprised by Joy, Harcourt Brace, 1955, page 30.) Please see "The Inside Story".

THE FOLLOWING HEADLINES ARE SIMILAR TO HEADLINES FROM THE LAST SEVERAL YEARS. THE SAME (OR WORSE) WILL HAPPEN NEXT YEAR! THESE INCIDENTS REPRESENT ONLY A TINY FRACTION OF WHAT REALLY GOES ON IN THE SCHOOLS OF THE SMALL "BIBLE BELT" STATE OF WEST VIRGINIA! MANY OTHER SERIOUS INCIDENTS ARE NOT MADE PUBLIC. HEADLINES LIKE THESE CAN BE FOUND IN ALL FIFTY STATES!
SADLY, WHAT HAPPENED TO THESE CHILDREN CANNOT BE CHANGED. DO YOU WANT TO TAKE THE CHANCE THAT YOUR CHILD WILL MAKE IT UNHARMED? EVEN IF A SERIOUS EVENT DOES NOT SHATTER YOUR CHILD, THERE IS NO WAY TO AVOID EXPOSING YOUR CHILD TO THINGS THAT WILL HARM HIM/HER EMOTIONALLY, MENTALLY, AND/OR SPIRITUALLY.
If you think that your school is an exception you are willingly blind.
Even the media knows that there is a CRISIS IN THE CLASSROOM.
THERE IS AN URGENT NEED TO GET OUR CHILDREN TO THE SAFETY OF HOMESCHOOLS OR CHRISTIAN SCHOOLS. THE DANGER OF THE PUBLIC SCHOOLS HAS CONVINCED A LOT OF NON-CHRISTIANS TO ABANDON THE PUBLIC SCHOOLS. CHRISTIANS HAVE THE BIBLICAL MANDATE TO EDUCATE THEIR CHILDREN ACCORDING TO DEUTERONOMY 6:7 AND COLOSSIANS 2:3.
RELIGION RULES IN SCHOOLS! If you have a strong stomach, see my March 13, 2010 article "Readin', 'Ritin', 'Rithmetic, and Religion".
The enemy will not let up! Be sure to see the 8-31 entry at 2018 HEADLINES.
WE MUST RESCUE OUR CHILDREN!
["Christian parents are _commanded_ to place their children under godly and Christian teaching, not neo-pagan or humanistic instruction. Whether we acknowledge it or not, only two choices remain-- obedience or disobedience to God's commands. (See Col. 2:8; 2 Cor. 10:3-5; Deut. 6:1-9; Mal. 4:6; 2 Cor. 6:14-19 along with Luke 6:40. Matt. 22:37-38 and Eph. 6:4)" E. Ray Moore.]
National Center for Education Statistics (NCES) are part of the U.S. Department of Education and provides detailed data about. It publishes "The Nation's Report Card"--The National Assessment of Educational Progress (NAEP). State Profiles from that report allow easily understood information about the performance of public school students in mathematics, reading, writing, and science. The results for grades 4 and 8 are found here: http://nces.ed.gov/nationsreportcard/states/. All subject areas can be accessed at http://nces.ed.gov/nationsreportcard/subjectareas.asp. As bureaucrats realize the damage done by this documentation, the system will be changed to make things look better so I cannot guarantee accurate results in the future.
In September 2014 (See the 10-7-14 WV News item.) the U.S. Chamber of Commerce released the extensive report Leaders & Laggards: A State-by-State Report Card on K-12 Educational Effectiveness.
The report revealed that The STEM (science, technology, engineering and math) pass rates West Virginia was in the bottom 5 states. West Virginia was also in the bottom five of graduates passing even one AP World Languages exam. West Virginia was graded F in International Competiveness, K-12 educational Effectiveness, Return on Investment (spending $11,848 per student! West Virginia was one of three states with a low NAEP performance combined with high costs.
After the comprehensive education reform bill passed, in 2019, the West Virginia Chamber of Commerce (which "has long been an advocate for education excellence in West Virginia" pg. 4) released "The State of Public Education in West Virginia" (https://www.wvchamber.com/Resources/Docs/Publications/The-State-of-Public-Education-in-WV-2019.pdf). Using five "reputable and oft-cited sources" the report concluded "that major reform of West Virginia's public education system is urgently needed." (pg. 3)
"(I)t is abundantly clear that student academic performance in West Virginia is among the lowest in the nation" and West Virginia's best high school was ranked only 585 th in the nation and "only 38% of graduates from that toprated high school were rated as being 'college ready." "The West Virginia Department of Education (WVDE) has developed its own measurement of school performance called the "Balanced Scorecard". Public schools in West Virginia are graded and ranked based on student performance within each school. In 2017-18, the WVDE's Balanced Scorecard showed that almost 88% of West Virginia's high schools do NOT meet the state's own benchmark for standards in mathematics, while 90% of our high schools do not meet, or only partially meet, the state's benchmark for English Language Arts."… " By any objective standard or measure, the educational results for West Virginia's students are among the lowest in the nation." (pg. 5) Details of the data begin on page 6.
"Public K-12 education spending is the largest single category in West Virginia's General Revenue budget, accounting for over 43 percent of the state's $4.625 billion budget in FY 2020. When state and county dollars are combined, West Virginia spent over $3.1 billion on public K-12 education in 2018." (pg. 5)
For more Chamber of Commerce facts about the pathetic performance of West Virginia public schools see the May 19 and June 14 items of West Virginia School News 2019, the 6-10-2018 news item, the 8-31-2012 news item , the March 11, 2013 article, and "The Data is in the Details."
BE SURE TO SEE THE REPORTS OF WEST VIRGINIA PUBLIC SCHOOL TEST PERFORMANCE. LOOK FOR "REPORT OF WEST VIRGINIA PUBLIC SCHOOL TEST PERFORMANCE" ON INDIVIDUAL YEAR PAGES (NOT ALL PAGES HAVE THE DATA). ALSO, SEARCH FOR KEY WORDS SUCH AS "TESTS" THROUGHOUT THESE WV SCHOOL NEWS PAGES.
A 2011 CNN report about West Virginia being inspired by Finland disclosed that the then state school superintendent believed that developing "the right curriculum, standards and teacher supports, and test scores will take care of themselves." His efforts resulted in "Global21, a statewide initiative launched in 2005 with the purpose of developing 'self-directed, motivated and life-long learners.'" Paine left and came back in 2017. His successor, Jorea Marple, has come and gone. A 107 page report about West Virginia's Global21 Initiative concluded that "When West Virginia became the second state to join P21 (Partnership for 21st Century Skills), the WVDE committed itself to a long-term, comprehensive, and systematic improvement effort to transform a state educational system into a system both dedicated to and capable of preparing learners for the globally competitive economy of the 21st century. This chronicle is a testament to the incredible amount of effort that has been put forth in the past six years to address every level of the educational system in a logical and holistic manner, driven by a single focus of ensuring all West Virginia students receive a high quality and rigorous 21st century education." The Partnership for 21st Century Skills seeks "to exceed the Common Core State Standards by changing the way students learn and teachers teach." It will be interesting to see how Global 21 skills work with the latest school shyster program—Common Core Standards because Common Core is "Rotten to the Core" because it "attempts to fix a problem created by the original national standard; our public school system." It is just another "Common Con". In the meantime, taxpayers pour money into indoctrination of their own children! See the details of the data.
For 2015 West Virginian budgeted 45% of all money to public education. In 2014 46.6% of the state budget went to public education. (http://www.budget.wv.gov/reportsandcharts/appropriations/Pages/default.aspx) The latest data of expenditures ranks West Virginia 16th in the nation with $12,112 per student!
(Pg. 73 http://www.nea.org/assets/docs/NEA-Rankings-and-Estimates-2013-2014.pdf) For the latest report on the huge amount of tax money paid by West Virginia citizens see the current HEADLINES page.
1. Go to https://www.wvcheckbook.gov/
(Notice the sub-heading: "THE GOVERNMENT DOESN'T MAKE MONEY--IT'S A STEWARD OF YOUR MONEY".
2. Click on the box for "State K-12 Education Spending" in the lower right area.
3. Choose your county.
4. See where your money is being spent
Please email me with any news from your part of West Virginia.
THE POINT HAS BEEN POWERFULLY PROVED: PUBLIC SCHOOLS ARE EVIL! OPEN YOUR EYES!
(NO NEW ITEMS WILL BE ADDED AFTER JUNE 2, 2022.)
EXCEPTION: The following three items were reported on the same day.
Eight families sue former Logan gym teacher charged with sending explicit photos to girls 3-10-23
https://www.msn.com/en-us/news/crime/eight-families-sue-former-logan-gym-teacher-charged-with-sending-explicit-photos-to-girls/ar-AA18tNvZ
A former Logan Middle School gym teacher who was arrested in December is now being sued by eight families…In the lawsuits he is not just accused of sending obscene photos of himself to his students but also inappropriate messages - even making comments to them at school. The alleged victims are as young as 11.…(A) victim's mother, who did not want to be identified, told Eyewitness News she was horrified and disccusted (sic) after two weeks passed before anyone from Logan County Schools reached out to her. She said her daughter was asked to give a written statement at school.
Braxton High School teacher accused of sexual relationship with student in classroom 3-10-23
https://wchstv.com/news/local/braxton-county-high-school-teacher-accused-of-sexual-relationship-with-student-in-school
A Braxton County High School teacher has been charged with two felonies after troopers said he admitted to having a sexual relationship with a juvenile student…"Mr. Given admitted to this officer that said acts did occur in his high school classroom…The alleged victim also said communications were occurring on social media that led to meeting in the classroom and the eventual sexual contact, according to the complaint.
School Bus Driver Charged With DUI While Taking Kids Home 3-9-23
https://dailycaller.com/2023/03/10/school-bus-driver-driving-under-the-influence-west-virginia/
Police arrested a school bus driver during his route Thursday in West Virginia for allegedly driving while intoxicated. Casey Dodrill allegedly drove the bus after drinking and drove the bus off the road, according to a Facebook post by the Nicholas County Board of Education. A teacher's aid (sic)reported Dodrill after he nearly crashed.
On these WV School News pages you can find facts about West Virginia public school issues of drugs, sex (including teachers* with students and promotion of sexual perversion), lack of disciple, violence, poor academic standards, crime, anti-Christianity, and wanting more and more money. Also, see how the homosexuals have taken over the schools by searching the term "homosexual"and "bullying" on each WV News page. Especially be sure to see the July 14, 2009 entry.
For West Virginia, the data is indisputable regarding the dangers for government school children experiencing sexual abuse. You can easily follow the thread of school personnel sex with students throughout the WV School news headlines. Be sure to see the May 11, 2015, June 1, 2008, October 17, 2005, and October 20, 1993 headlines!!! Also, look for the term "porn." The problem is nationwide as documented in "A Question about Parents Putting Children at Risk". (Scroll down that page to find that article.) For an eye-opening experience, use your search engine and enter "teacher crime" and "teacher sex".
Sadly, sexual sin occurs in churches too.**
There is much more! See it to believe it.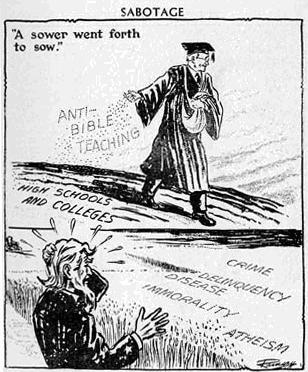 The cartoon is from the 1930's.
Since then the evil seeds have reached middle and elementary schools.

The call for an EXODUS began in 1974 in West Virginia. See "The Kanawha County Textbook War".
"Bad men cannot make good citizens. It is when a people forget God that tyrants forge their chains. A vitiated state of morals, a corrupted public conscience, is incompatible with freedom. No free government, or the blessings of liberty, can be preserved to any people but by a firm adherence to justice, moderation, temperance, frugality, and virtue; and by a frequent recurrence to fundamental principles."
Patrick Henry
(http://quotes.liberty-tree.ca/quotes_by/patrick+henry)
*It is impossible for me to find every incident. For example, another teacher told me of a male teacher at Stonewall Jackson Middle School who had sex with a female student who tried to blackmail a few years later. I found his name and his sexual activities discussed on a blog but I could not find a news report.

**A 2018 report revealed that over 1000 children were molested by priests in Pennsylvania over a 70 year period.
https://www.nytimes.com/2018/08/14/us/catholic-church-sex-abuse-pennsylvania.html
A 2019 report revealed that about 380 Southern Baptist leaders had been been accused of sexual misconduct with 700 people (some were very young) since 1998.
https://www.lifesitenews.com/news/sex-abuse-scandal-hits-southern-baptist-convention-200-leaders-charged Compare those amounts and time periods to one metropolitan school system's stats.
A 2018 report revealed that, from 2008 through 2017, there were 523 reports that children were sexually assaulted or abused inside Chicago public schools.
https://graphics.chicagotribune.com/chicago-public-schools-sexual-abuse/index.html
There are many more alarming facts about what is happening in government schools. Even the secular media had to admit that Teacher-Student Sex Allegations Hit Epidemic Proportions in 2014.