EXODUS MANDATE-WV
---
Goals and Objectives | Christian Education | Resources for teaching| WV News | Articles
---
CRISIS IN THE CLASSROOM
By Karl C. Priest 1-14-22
In January, WCHS-TV began a series titled "Crisis in the Classroom ." After seeing the second (to me) installment, I sent the following email and called the "Tip Line."
Wed, Jan 12, 2022 2:42 pm
To: news@wchstv.com
Hello:
I am a retired teacher.
Thank you, WCHS, for your report "Crisis in the Classroom."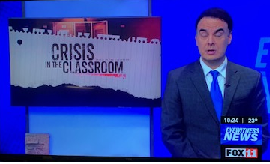 (screen shot 1-12-22)
I look forward to your website section dedicated to that subject.
For many years, I have documented the crises in West Virginia public schools.
It was reported, way back in 2005, that "Abuse is No, 1 Reason Teachers Lose Licenses in W. Va." However, abuse is not the only problem.
Please see West Virginia School News for more facts.
Thank you,
Karl Priest
P.S. I called your Tip Line (304-935-5993) also.
Wed, Jan 12, 2022 6:55 pm
Wade Parsons (wgparsons@sbgtv.com)
Karl,
This is Wade Parsons, with Eyewitness News. I'm emailing you, as you requested when you called our tip line. I'm interested in looking at what you have to share.
Wade Parsons | News Director
WCHS (ABC) / DCHS (FOX)
WVAH (Decades) / EVAH (Stadium)
O: 304.561.3815 | M: 304.539.2345
Wed, Jan 12, 2022 8:33 pm
To: wgparsons@sbgtv.com Details
Hello Wade.
I sent this out earlier.
Karl
--------------------------------
If there are other communications or related items, I will report them here.