EXODUS MANDATE-WV
---
Goals and Objectives | Christian Education | Resources for teaching| WV News | Articles
---
West Virginia News
"If parents in each generation always, or often, knew what really goes on at their sons' schools, the history of education would be very different." (C. S. Lewis, Surprised by Joy, Harcourt Brace, 1955, page 30.) Please see "The Inside Story".

THE FOLLOWING HEADLINES ARE SIMILAR TO HEADLINES FROM THE LAST SEVERAL YEARS. THE SAME (OR WORSE) WILL HAPPEN NEXT YEAR! THESE INCIDENTS REPRESENT ONLY A TINY FRACTION OF WHAT REALLY GOES ON IN THE SCHOOLS OF THE SMALL "BIBLE BELT" STATE OF WEST VIRGINIA! MANY OTHER SERIOUS INCIDENTS ARE NOT MADE PUBLIC.
SADLY, WHAT HAPPENED TO THESE CHILDREN CANNOT BE CHANGED. DO YOU WANT TO TAKE THE CHANCE THAT YOUR CHILD WILL MAKE IT UNHARMED? EVEN IF A SERIOUS EVENT DOES NOT SHATTER YOUR CHILD, THERE IS NO WAY TO AVOID EXPOSING YOUR CHILD TO THINGS THAT WILL HARM HIM/HER EMOTIONALLY, MENTALLY, AND/OR SPIRITUALLY.
THERE IS AN URGENT NEED TO GET OUR CHILDREN TO THE SAFETY OF HOMESCHOOLS OR CHRISTIAN SCHOOLS. THE DANGER OF THE PUBLIC SCHOOLS HAS CONVINCED A LOT OF NON-CHRISTIANS TO ABANDON THE PUBLIC SCHOOLS. CHRISTIANS HAVE THE BIBLICAL MANDATE TO EDUCATE THEIR CHILDREN ACCORDING TO DEUTERONOMY 6:7 AND COLOSSIANS 2:3.
WE MUST RESCUE OUR CHILDREN!*
National Center for Education Statistics ( NCES) are part of the U.S. Department of Education and provides detailed data about. It publishes "The Nation's Report Card"--The National Assessment of Educational Progress (NAEP). State Profiles from that report allow easily understood information about the performance of public school students in mathematics, reading, writing, and science. The results for grades 4 and 8 are found here: http://nces.ed.gov/nationsreportcard/states/. All subject areas can be accessed at http://nces.ed.gov/nationsreportcard/subjectareas.asp. As bureaucrats realize the damage done by this documentation, the system will be changed to make things look better so I cannot guarantee accurate results in the future. BE SURE TO SEE THE REPORTS OF WEST VIRGINIA PUBLIC SCHOOL TEST PERFORMANCE. LOOK FOR "REPORT OF WEST VIRGINIA PUBLIC SCHOOL TEST PERFORMANCE" ON INDIVIDUAL YEAR PAGES (NOT ALL PAGES HAVE THE DATA).
Please email me with any news from your part of West Virginia.
You can easily follow common threads of drugs, sex (including teachers with students and promotion of sexual perversion), lack of disciple, violence, poor academic standards, crime, anti-Christianity, and wanting more and more money.
For West Virginia, the data is indisputable regarding the dangers for government school children experiencing sexual abuse and the problem is nationwide as documented in "A Question about Parents Putting Children at Risk".
Compared to incidents in the "church"--well, see for yourself.
*"Christian parents are _commanded_ to place their children under godly and Christian teaching, not neo-pagan or humanistic instruction. Whether we acknowledge it or not, only two choices remain-- obedience or disobedience to God's commands. (See Col. 2:8; 2 Cor. 10:3-5; Deut. 6:1-9; Mal. 4:6; 2 Cor. 6:14-19 along with Luke 6:40. Matt. 22:37-38 and Eph. 6:4)" E. Ray Moore.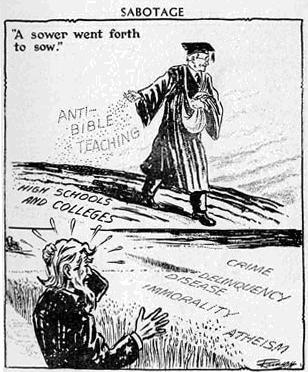 The cartoon is from the 1930's.
Since then the evil seeds have reached middle and elementary schools.

The call for an EXODUS began in 1974 in West Virginia. See "The Kanawha County Textbook War".
"Bad men cannot make good citizens. It is when a people forget God that tyrants forge their chains. A vitiated state of morals, a corrupted public conscience, is incompatible with freedom. No free government, or the blessings of liberty, can be preserved to any people but by a firm adherence to justice, moderation, temperance, frugality, and virtue; and by a frequent recurrence to fundamental principles."
Patrick Henry
(http://quotes.liberty-tree.ca/quotes_by/patrick+henry)