THE INSECTMAN (Karl Priest)

WEST VIRGINIA'S BEST-KNOWN ENEMY OF EVOLUTION
(as declared by the Charleston Gazette)
SOME WOULD SAY KARL IS
(thanks to the Internet)
IN THE TOP TEN (ENEMIES OF EVOLUTION)
IN THE WORLD.
EXPOSING EVOLUTIONISM SINCE 1998
TRAINED AT THE INSTITUTE OF CREATION RESEARCH (ICR) WHERE
HE MET DR. JOHN MORRIS AND DR. DUANE GISH
HAS PRESENTED THE TRUTH OF CREATION AT OVER 100 LOCATIONS
(Including ORIGINS 2012 -- the keynote speaker for adults was
Dr. Jonathan Sarfati.)
FOUNDED THE KANAWHA CREATION SCIENCE GROUP
A MEMBER OF THE CREATION SCIENCE HALL OF FAME
(honorable mention)
MEMBER OF BOARD OF DIRECTORS OF CREATION SUMMIT
LISTED IN CREATION WIKI
--------------------
EVOLUTION EXCLUSIVELY EXISTS IN THE BUGGY BRAINS OF BELIEVERS OF DARWIN'S DELUSION.
INSECTS BUG EVOLUTIONISM
God created the creeping creatures, which includes insects, and "God saw that it was good." (Genesis 1:25) About a million different insect species have been identified and there may be more than seven million not yet found. There are about 10 quintillion (1 followed by 19 zeros) insects alive right now! Insects make up over 80% of all animals! They live in the artic, deserts, water, and soil. Only a few insects are pests and the Bible explains why. Of everything God created, insects have the greatest variety of size, shape, color, and behavior. Without insects, humans would face insurmountable problems. Thank God for insects!
THIS WEBSITE PROVIDES
STINGING RESOURCES
FOR BUGGING (WITH TRUTH AND LOGIC)
EVOLUTIONISTS, LIBERALS, SOCIALISTS,
PSEUDO-CONSERVATIVES ,
AND
OTHERS BRAINWASHED BY GOVERNMENT SCHOOLS.
(THERE IS ALSO PLENTY OF HONEY HERE.)
KARL IS A FLEA ON THE SKIN OF LUDICROUS LIBERALS
AND
COMPROMISING CONSERVATIVES.
HE GIVES THEM AN IRRITATING ITCH AND EXPENDS THEIR ENERGY.
KARL PULLS NO PUNCHES
—NEITHER LEFT HOOKS NOR RIGHT CROSSES—
HE HAS BEEN BANNED FROM BOTH
THE (sick) LOONY LEFT HUFFINGTON POST
AND
THE (self-) RIGHTEOUS RIGHT TEA PARTY NATION.
MAIN MINISTRY MISSION:
CHERISHING CHILDREN BY PROCLAIMING
CHRIST AS CREATOR.

Oh that men would praise the LORD
for his goodness, and for his wonderful works
to the children of men!
(Psalms 107: 8, 15, 21, & 31 KJB)
KIDS: See ARTICLES, LINKS, and GET BUGGED.
PLEASE: Copy this page and as many others*as possible on this site (especially GET SAVED) before the Enemy shuts them down.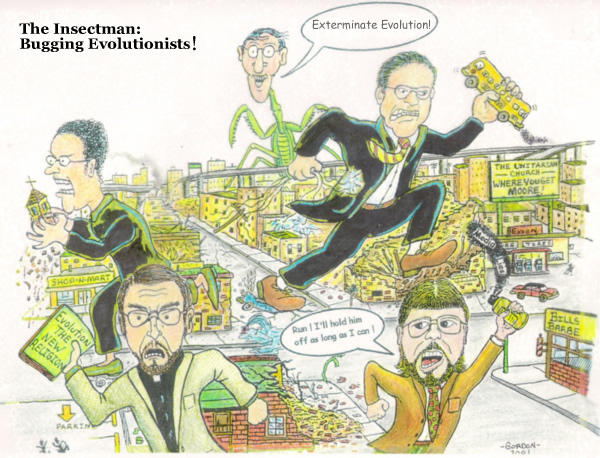 Karl…
>began his life at a rescue mission.
>is a Born Again Christian.
>is a Bible Believer.
>participated in the event that launched the current Cultural War.
>grew up in one of the toughest neighborhoods in the nation.
>served in the United States Navy.
>played college baseball.
>was a school principal.
>taught school for over 30 years.
>proved that public schools cannot be redeemed.
>has served the Lord Jesus Christ in a variety of capacities
> understands that insects are integral to imagined evidence for evolutionism: "Actually, there is superabundant evidence for animals evolving under our eyes: British moths becoming darker since the Industrial Revolution (industrial melanization), insects evolving DDT resistance since World War II, malaria parasites evolving chloroquine resistance in the last two decades, and new strains of flu virus evolving every few years to infect us." (Diamond, Jared. Who Are the Jews? Natural History Vol. 102, No. 11, November 1993. p. 19)
> comprehends the consequences of the conflict: "Christianity has fought, still fights, and will fight science to the desperate end over evolution, because evolution destroys utterly and finally the very reason Jesus' earthly life was supposedly made necessary. Destroy Adam and Eve and the original sin, and in the rubble you will find the sorry remains of the son of god. Take away the meaning of his death. If Jesus was not the redeemer that died for our sins, and this is what evolution means, then Christianity is nothing." (Bozarth, G. Richard. "The Meaning of Evolution,"American Atheist, 20 Sept. 1979, p. 30)
CHRISTIANS:
1. Only one life, 'twill soon be past. Only what's done for Christ will last." Read the rest.
2. "Silence in the face of evil is itself evil: God will not hold us guiltless. Not to speak is to speak. Not to act is to act." Deitrich Bonhoeffer
3. When you leave this life, may you hear the Lord say, "Well done, good and faithful servant; thou hast been faithful over a few things, I will make thee ruler over many things: enter thou into the joy of thy lord." Matthew 25:23b KJB
*PRIORITY PAGES
Karl Priest does not support the hate of any individuals or groups. Telling the truth about what individuals or groups believe is an act of love.
For the invisible things of him from the creation of the world are clearly seen, being understood by the things that are made, even his eternal power and Godhead; so that they are without excuse: Because that, when they knew God, they glorified him not as God, neither were thankful; but became vain in their imaginations, and their foolish heart was darkened. Professing themselves to be wise, they became fools, And changed the glory of the uncorruptible God into an image made like to corruptible man, and to birds, and fourfooted beasts, and creeping things. Wherefore God also gave them up to uncleanness through the lusts of their own hearts, to dishonour their own bodies between themselves: Who changed the truth of God into a lie, and worshipped and served the creature more than the Creator, who is blessed for ever. Amen. (Romans 1:20-25 KJB)
Jesus said, "Not every one that saith unto me, Lord, Lord, shall enter into the kingdom of heaven; but he that doeth the will of my Father which is in heaven." (Matt. 7:21 KJB)
A warning to those who tell the lie of evolutionism to children: But whoso shall offend one of these little ones which believe in me, it were better for him that a millstone were hanged about his neck, and that he were drowned in the depth of the sea. (Matthew 18:6 KJB)
And as it is appointed unto men once to die, but after this the judgment. (Hebrews 9:27 KJB)
Any use of non-King James Bible references to Bible verses is not supported by Karl Priest.
Opinions expressed by others on any part of this website are their own and not necessarily supported by Karl Priest.
In accordance with Title 17 U.S.C. Section 107, any copyrighted work herein is archived under fair use without profit or payment to those who have expressed a prior interest in reviewing the included information for personal use, non-profit research and educational purposes only.
The information contained in this website is provided "as is" without warranty of any kind. The entire risk as to the results and the performance of the information is assumed by the user, and in no event shall Karl Priest or host provider be liable for any consequential, incidental, or direct damages suffered in the course of using the information on this website.
COMPROMISE CAUSES THE CHURCH TO CRUMBLE