TEXTBOOK PROTESTER TRUTH
Compiled by Karl C. Priest
LEFTWING LIBERALS WANT
THE KANAWHA COUNTY TEXTBOOK PROTESTERS TO BE REMEMBERED AS
NARROW-MINDED, IGNORANT, RELIGIOUS FANATICS, CENSORS, VIOLENT, AND RACISTS.
LEFTWING LIBERALS USE
SLURS, LIES, EXAGGERATIONS, SENSATIONALISM,
HISTORICAL ERRORS, AND OMISSION OF KEY FACTS TO
PERPETUATE THEIR PROPAGANDA.
AN EXEMPLARY EXAMPLE IS
"DR. DURST DUPLICATES AND DESIGNS DISINFORMATION".
AMAZINGLY, AND SADLY,
MANY CHRISTIANS AND CONSERVATIVES HAVE BEEN BRAINWASHED.
THE KANAWHA COUNTY TEXTBOOK PROTESTERS (THE COURAGEOUS CORPS OF '74) WERE THE FIRST VICTIMS OF "FAKE NEWS." THOSE FINE FOLKS WERE NOT FLAWLESS, BUT ANY REPORT THAT FINDS FAULT WITH THEM SHOULD BE FAIRLY EVALUATED BY THE FACTS ON THE TEXTBOOK PROTESTER TRUTH PAGES.
IF ANYONE CLAIMS THE PROTESTERS WERE ANYTHING OTHER THAN
PLEASANT PEOPLE--
THE ACCUSER'S ACCUSATION IS
A FABRICATION, EXAGGERATION, OR ABERRATION.
THIS PAGE WILL PROVIDE DOUCMENTATED FACTS THAT TELL THE TRUTH THE "VIOLENCE" SLUR.
MATERIAL WILL BE ADDED AS DEVELOPED.
Items are not arranged by priority.
(Typos are corrected when found without changing "update" reference.)

LAST UPDATE: 5-26-2020

PLEASE INFORM ME OF ANY TYPOS OR OTHER ERRORS.

There is ample material to set the record straight.
Gold nuggets of truth will glitter among piles of gray gravel propaganda.
Many accusations are repeated multiple times in separate articles and reports. No attempt has been made here to cite every inaccuracy although some duplication (not identical) have been arbitrarily included.
For detailed documentation of how
the propaganda has been perpetuated
see
INDISPUTABLE IGNOBLE IGNORANCE AND INSOLENCE
In order to fully understand the protesters as the Courageous Corps of '74 and
the good citizens and patriots they really were
please read PROTESTER VOICES—THE 1974 TEXTBOOK TEA PARTY.
---------------------------------
The Kanawha County Textbook War was arguably one of the top three non-catastrophe events in West Virginia history. It also ranks in the top echelon of conservative history in America. The Kanawha County Textbook War has generated multiple articles, research papers, chapters in books and entire books.
The citations on this page are not intended to insinuate that the authors were in agreement with the protesters. To the contrary, the purpose is to demonstrate that even the most biased writer or researcher discloses facts that contradict the widely held misconceptions of the protesters. The folks who stood up for their children and their country in 1974 were good people—the kind of folks most Americans would want to have as neighbors. It is time that the truth is told!
My comments are in red.
---------------------------------
There was some violence during the protest, but let's take a calm look at it in context. It was a tiny fridge group (some likely not truly concerned about children) that actually did property damage.
Here are two photos that represent 99.99999999% of the protesters. And that is allowing for the ones who committed violence to be grouped with the real protesters. The real protesters condemned violence. I wonder what percentage of liberals condemn the acts of Antifa.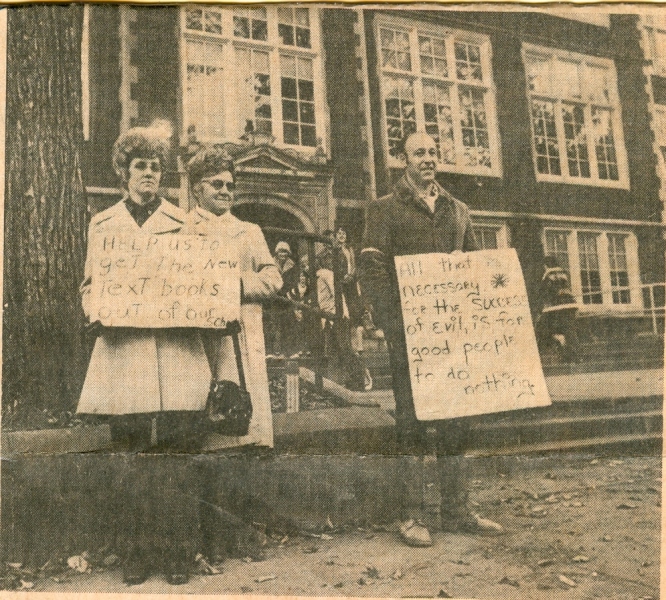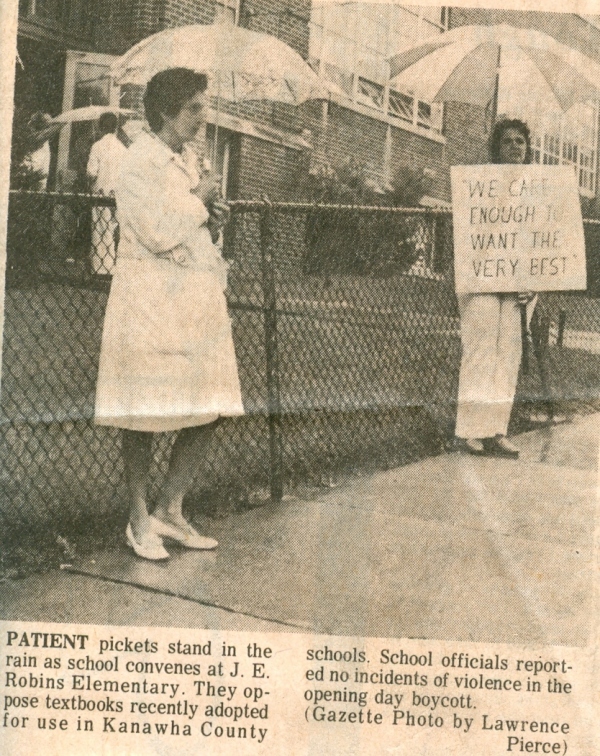 See more of the peaceful protesters in this video.
The protesters deplored violence and it hurt their efforts. The violence that occurred was not as great as leftwing liberals want to portray. Following are the facts. I include bomb scares, fights, and verbal attacks as various degrees of violence. Most incidents, such as bullets hitting empty buildings, empty buses, or a state trooper's car were never proven to be protester connected. It is not publicized that violence was inflicted against the protesters. Not widely known is that the protesters were victims of violence such as the burning of protest leader Don Means' car (Charleston Daily Mail 11-1-1974)
---------------------------------
One of the Protest leaders, pastor Avis Hill, recalled that, "Much violence was directed at our office in St. Albans. Dollie Hill Christian Academy sold Christmas trees to support the school. One night, just after Christmas, at about 2 a.m. I was awakened by gun fire. Someone was shooting into our church/school building and setting on fire the excess trees we had left over. I was very startled when it happened. It seemed like a nightmare. But believe me, it was far from just a bad dream. It was for real! I called for some help and we investigated. We found 17 bullet holes in the building with two bullets coming through our plate glass windows in the sanctuary. When I called the police, it took them two hours to get there and the next day the local newspaper ran a story showing the holes in the plate glass and they made it appear that I was just pulling off a PR stunt. That is the way the media treated decent, God fearing, hardworking citizens. But the NAACP was somehow convinced I was racist." PROTESTER VOICES--The 1974 Textbook Tea Party, page 298
On May 23, the Board held a special meeting dominated by short tempers and hot debate. McHenry, Justin J., "Silent, no more: The 1974 Kanawha County textbook controversy and the rise of conservatism in America" (2006). Graduate Theses, Dissertations, and Problem Reports. West Virginia University. 6 Here is a more detailed report of that meeting: "The failure of the educators to give sufficient attention to the arguments of the book protesters was made more explicit at the May 23 meeting of the board of education. Mrs. Moore's objections to the books were belittled and disparaged by defenders of the books. In addition, others charged that racism lay at the basis of her objections. (153) [Burger, Robert H. "The Kanawha County Textbook Controversy: A Study of Communications and Power." Library Quarterly 48.2 (1978)]
A revealing report of the May 23 meeting is in PROTESTER VOICES--The 1974 Textbook Tea Party: "Mysteriously, the only record of that meeting extant at the board reads "The board entered into a lengthy discussion concerning the textbooks which had been adopted in the April 11 meeting." See Chapters 10 and 11 for more about that session.) (page 22) "Mrs. Moore asked a teacher to read from one of the books. The teacher refused." (102) A teacher who was at the meeting gave this account: "At the meeting, Mrs. Moore asked a teacher to read from one of the books. The teacher would not do it. I was not sure if she was defiant or afraid. That night, the committee members were rude and unfairly attacked Mrs. Moore. Mrs. Moore remained calm, dignified, and acted like a professional. She really had class. I did not have an opinion of Mrs. Moore except for what I had read in the newspapers. From that night on I never had much faith in the media." (page 233)
Friday, September 13, County School Superintendent Dr. Kenneth Underwood decided to close all county schools due to the lack of law and order; that same morning shots rang out at a UPS Depot in Rand critically wounding a UPS driver. McHenry, Justin J., "Silent, no more: The 1974 Kanawha County textbook controversy and the rise of conservatism in America" (2006). Graduate Theses, Dissertations, and Problem Reports. West Virginia University. 12 He did not mention that the shot was fired by a pro-book leader.
It should be said that only a very small portion of the protestors were bomb wielding, guns a-blazing crazies, who managed to single-handedly isolate most of their middle-to upper-class support. McHenry, Justin J., "Silent, no more: The 1974 Kanawha County textbook controversy and the rise of conservatism in America" (2006). Graduate Theses, Dissertations, and Problem Reports. West Virginia University. 14
---------------------------------
Magnolia High School was broken into and vandalized overnight on June 4, 2015. (http://www.wtov9.com/shared/news/features/top-stories/stories/wtov_all-4-suspects-custody-magnolia-hs-vandalism-9147.shtml)
An investigation began and police used surveillance along with school staff to identify the four teens they believe are responsible. (The three boys) are former students of the school. The New Martinsville Police Department is handling the investigation. Chief Tim Cecil says equipment was flipped over, damage was done throughout the school, and items were stolen. Technology was a big target as computer screens and TV screens were busted in, among many other acts of vandalism. The damage still being tallied, but the police chief's personal opinion is it is upwards of $20,000. School was cancelled Thursday and officials are deciding what to do about missed finals. (Compared to those teens the 1974 "protesters" were low level rookies at vandalism.)
---------------------------------
Seven people were found innocent in court for the accusation that they threw rocks at a house and threatened a couple who sent their children to school. Charleston Daily Mail 10-30-74
---------------------------------
According to a spokesman for the sheriff's department, some CBS television reporters "got shoved around pretty good" by a few people at a textbook rally. One camera was destroyed. (Charleston Gazette-Mail 9-15-74) Avis Hill was there. He told me the reporters tried to get into a meeting being held separately by some coal miners. When the reporters ignored the miner's order to leave, the miners forced them to leave.
---------------------------------
My school, Chandler Elementary, was prominently featured in the news (top of page one) for an attempted fire bombing. The event was so insignificant that I soon forgot about it. (Charleston Daily Mail 10-11-74) Chandler was always a site of frequent vandalism due to its close proximity to the toughest neighborhood in West Virginia. A little while later an article reported that Chandler had been vandalized for the third time in seven days. This time KKK signs were left throughout the building. A board of education spokesman blamed the vandalism on teenagers. This was not page one news. Charleston Daily Mail 1-22-75
---------------------------------
A woman (active in Democrat politics) attacked a female Democrat politician Patsy McGraw who confronted the woman over her statement that the protesters were "trash" and "hadn't gone past the third grade." She threw coffee on McGraw. The woman claimed McGraw grabbed her first. Charleston Gazette 10-10-74
---------------------------------
Protest leader (Business and Professional People's Alliance for Better Textbooks) Donald Means's car was burned (Charleston Daily Mail 11-1-74). A bomb scare broke up a meeting of the Business and Professional People's Alliance for Better Textbooks. (Charleston Gazette 10-25-74) Also, a female protester's car was firebombed. (Charleston Daily Mail 12-21-74 Referenced in comment by Marvin Horan.)
---------------------------------

Five students were arrested for calling in bomb threats. Some of the calls were made from the school. One of the students said they did it "to get the kids out of school." Charleston Daily Mail 10-15-74
---------------------------------
The serious violence that can be connected to protester sympathizers was more like vandalism.
A front page, top right, headline declared,"Dynamite, Fire Bombs Rock Schools". The report said Wet Branch (Cabin Creek) and Midway "damages were about $1000 each at the two schools." Two doors were blown off and dozens of windows were shattered at Wet Branch. Midway "sustained moderate fire and smoke damage". Charleston Daily Mail 10-9-74
The 10-22 Daily Mail (front page top right) read "Dynamite Blast Damages School" (Midway). Near the middle of the article was "Damage was confined to one room, and a board of education official estimated it at $1,500."
Let's compare the bombings to vandalism. What cost $1.00 in 1974 would cost $5.26 in 2019. In 2019 the 1974 damage would equal $7885.61. (https://westegg.com/inflation/)
February 06, 2008
WYOMING (Michigan)-- Wyoming police say three students have confessed to breaking into their own school and doing more than $50,000 in damage to the building.
The Wyoming Park High School students -- a 16-year-old girl and 16-year-old boy and his 15-year sister -- walked into the Wyoming Police Department late Tuesday night accompanied by their parents and turned themselves into investigators.
(http://blog.mlive.com/chronicle/2008/02/three_students_surrender_in_sc.html)
It only takes one kid to do more damage than the 1974 bombs.
What cost $1.00 in 1974 would cost $4.37 in 2010.In 2010 the 1974 damage would equal $6556.27.
August 27, 2010
LYNN (MA)- A 13-year-old boy who lives blocks away from the Callahan School has been arrested on multiple charges related to vandalism in the school on Monday.
"We believe the damage estimate may be in excess of $50,000," said city Inspectional Services Director Michael Donovan. (http://itemlive.com/articles/2010/08/27/news/news02.txt)
---------------------------------
A shooting occurred, on September 12, when a man tried to cross a picket line at Smith's Transfer Trucking Company to get to work. He said that he was shoved before he pulled a gun and emptied it. Fortunately he only grazed one man, but the shooter was hospitalized after they beat him up. He stated that he became pro-book* after his pastor had someone come to church and talk about the books. "Like the people who are protesting, I was against the textbooks when I first heard about them. Then the pastor of our church called a meeting and people came and talked about the books. I learned that it wasn't what was in the books that mattered—it was the way the things are taught. And the things that are in the books are designed to make kids think. And that's good." (Charleston Gazette 9-25-74) That is a perfect example of a man brainwashed by his religious leader.
A United Parcel Service worker was shot through the heart as he was leaving the UPS center where pickets were standing at the entrance. The shooter said a group of pickets ran toward his car. A UPS official said there were three pickets there (Charleston Daily Mail September 13, 1974). The shooter was the leader of a pro-book organization and had no business being there. "Accused of shooting Cochran with a .32 caliber pistol is William Noel, 27, also of Rand and a leader of Concerned Citizens for Education, a group which supports keeping the textbooks in county schools. Noel had earlier purchased an advertisement in Saturday's Gazette calling notice to a Sunday meeting scheduled by Concerned Citizens. Since the shooting the advertisement has been canceled." (Charleston Gazette September 14, 1974) The press did not pursue continued coverage of that serious violence. Thankfully the victim survived and later said that he was just walking down the road when he was shot. (Charleston Gazette September 20, 1974)
---------------------------------
There were nine people convicted of conspiring to or of planting bombs in empty schools. (Charleston Gazette November 5, 1975) Petitions were presented to the board of education by the protesters containing over 12,000 names. (Charleston Daily Mail 6-28-74) Let's say there were 10,000 that were serious protesters. That amounts to 0.09 percent of protesters who were seriously violent. The only shots fired at humans were fired by two pro-bookers (not a complimentary term*). A newspaper estimate of the number of people who marched (making them serious pro-bookers) in a pro-book parade was 1000 (Charleston Gazette-Mail 10-27-74). Let's double that and say there were 2000 who were seriously pro-book. That would equal 0.10 percent of the pro-bookers who were seriously violent. The examples exemplify that, percentagewise, pro-bookers were more violent than the protesters.
---------------------------------
A dynamite bomb exploded behind the board of education office shortly after a protester group (splinter group of the Citizen Screening Committee) concluded a meeting. The damage was mostly to windows. (Charleston Gazette 10-31-74) The protesters have always believed this was done by pro-bookers*. That is not an illogical assumption.
---------------------------------
In a highly subjective paper, a West Virginia University professor listed a chronology of events that included for October 9, 1974 that "3 elementary schools were vandalized, people were injured, cars burned." (166) Only one school was vandalized on the 9th. I am not sure what he meant by people being injured, but I found no reports of anything like that on that date. It would take too much space to even discuss that matter of who and how many were injured as well as by whom. There were three cars burned (none on the 9th of any month) and two of those belonged to protesters. (Charleston Daily Mail 11-1-74 and Charleston Daily Mail 12-21-74 Referenced in comment by Marvin Horan.) For August 13-16 the professor listed that "Two men were shot, a third was severely beaten, a CBS-TV crew was roughed up." (165) Perhaps the WVU scholar meant September 13-16. On the 14th a CBS crew was roughed up for trying to invade a private meeting of coal miners. On the 13th a PRO-BOOK leader shot an innocent by-stander whom he thought was a protester. I know of no other man who was shot. On the 12th, another PRO-BOOKER* emptied his pistol but missed a group of union pickets who blocked him from entering his work site. The pickets did beat him with feet and fists badly enough to put him in the hospital. (Parker, Franklin. "Textbook Censorship: Case Study of Kanawha County, W.Va., 1974-75,"Proceedings of the Twenty-Sixth Annual Meeting, Southwestern Philosophy of Education Society, Volume XXVI, 1976: 162-176.)
---------------------------------
Even though this "news" report is slanted by the slur of "book-banning," it displays that the protesters could be both angry and orderly. "An orderly but angry crowd of more than 500 shouting parents, many of them coal-miners on strike, reopened the book-banning crisis here today by staging a demonstration to demand the immediate and unconditional withdrawal of what they called 'dirty' and 'Godless' public school textbooks." (New York Times, 9-18-1974, pg. 26) The coal miners were not on strike. They were part of the protest as concerned parents and tax-paying citizens. "Members of UMW District 17, ministers and concerned parents protesting new English textbooks in Kanawha County schools have joined together to fight the Kanawha County Board of Education for removal of controversial books" (Charleston Daily Mail 9-10-1974) If that is not clear enough, read what the United Mine Workers union place in both the Charleston Gazette and Daily Mail on 10-12-1974: "To set the record straight, the men picketing coal mines, although some of them may be dues payers in this organization, do not represent the United Mine Workers…The UMWA has not led or participated in this protest."
---------------------------------
Kanawha County Deputy Superintendent John Hughes was forced to admit false testimony in the affidavit brought against the protesters. Candor, Catherine. "A History of the Kanawha County Textbook Controversy, April 1974-April 1975." Virginia Polytechnic Institute and State University, 1976:186.
According to Candor this involved the time of day he became aware of some mothers who had entered the board office for a sit-in. The March 11, 1975 newspaper report said that it involved Hughes claiming he heard of the sit-in while he was at the board office when the truth was he was notified via telephone while he was at an area school. Hughes also could not name anyone who had been prevented from entering or leaving the building. The jury was hung and no verdict was reached.
---------------------------------
The violence and anarchy that gripped Kanawha County for over a year was totally disruptive. Candor, Catherine. "A History of the Kanawha County Textbook Controversy, April 1974-April 1975." Virginia Polytechnic Institute and State University, 1976: 215.
Citations on this page prove that the so-called "violence" was not as stark as some want to portray. The limited violence was sporadic, not county-wide, and it did not last for a year. "Anarchy" ("a state of society without government or law" Dictionary.com) is a gross exaggeration.
---------------------------------
The majority of citizens disgruntled with the books were compelled to engage in legal, nonviolent means of protest and, in fact, deplored any violence… Mason, Carol. "An American Conflict: Representing the 1974 Kanawha County Textbook Controversy." Appalachian Journal. Spring 2005: 359
Ms. Mason, as exposed in Chapter 2 of Protester Voices—The 1974 Textbook Tea Party, is far from being an objective scholar so this admission is significant.
---------------------------------
Rock-throwing mobs forced schools to close. Haught, James A. "The great West Virginia Holy War." Charleston Gazette, Oct. 12, 1993.
The only news reference to rock throwers was about seven people who were found innocent in a court of law of the charge of threatening a neighbor which included the accusation of rock throwing (Charleston Daily Mail 10-30-74). For more about James Haught see below.
---------------------------------
The action (submitting the books to the review committee) came too late to stop the violence on both sides of the picket lines…The car of one of the three jailed women (protesters) was set afire… Egerton, John. "The Battle of the Books." The Progressive June 1975: 14.
One has to read carefully, but this is a rare acknowledgment that the protesters were victims of violence.
---------------------------------
...two men have been shot and seriously wounded and another severely beaten. Benzin, Philip. "War over Words—Latest Moves to Ban Certain School Books Worry U.S. Educators." The Wall Street Journal September 20, 1974: 1.
Actually one man was severely wounded by a pro-booker* and another had a flesh wound (he refused hospitalization) by another pro-booker who was the one who got beat up after he emptied his pistol at union pickets. On page 18 the article says the shootings "probably didn't directly involve participants in the book-banning dispute."
---------------------------------
This (pro-book*) group, Parents for Education, was subsequently called the Kanawha Coalition of a Quality Education... Burger, Robert H. "The Kanawha County Textbook Controversy: A Study of Communications and Power." Library Quarterly 48.2 (1978): 158
The pro-bookers changed the name when their leader shot an innocent man in the heart when the leader was nosing around union pickets.
---------------------------------
On July 23, 2011 the Gazette editor (James Haught) favorably reviewed the novel Milton's Child which he described as " One of West Virginia's most bizarre episodes -- the notorious 1974 Kanawha County fundamentalist uprising against "godless textbooks" -- has been retold by a sad victim... It's a dismal tale of ugliness and ignorance. " He rated the book " Superbly written... Recommended." (http://wvgazette.com/Opinion/OpEdCommentaries/201107221614?page=1). The review is primarily a rehash of Haught's hatred of the protesters. The book's author is a preacher's son who "was whipped with belts endlessly" resulting in "purple welts...on his back." At one time the boy was removed from parental custody, but " Church leaders pulled strings with state officials." Besides the whippings, the boy was exposed to strong biblical teaching about sin and hell. If the boy was physically abused, there is no excuse. If cases of child abuse are investigated I have no doubt that the high nineties (percent wise) of them would be in non-Christian homes. This matter does not pertain to the protesters as a whole; however Mr. Haught (and perhaps the author) wants to make it appear that it does. James Haught is a nationally known atheist. In fact he is an Internet Celebrity Atheist. Please see item number two at "Why Protester Voices —the 1974 Textbook Tea Party Qualifies as a Banned Book".
---------------------------------
The protesters were NOT violent. Just do the math.
---------------------------------

"School buildings were hit by dynamite and Molotov cocktails, buses were riddled with bullets, journalists were beaten and surrounding coal mines were shut down by protesting miners," said producer and narrator Trey Kay in the"Great Textbook War" documentary. (Listen at http://americanradioworks.publicradio.org/features/textbooks/.)
THE FACTS: 1. No journalist was seriously hurt and they ignored a request to leave a meeting being held by coal miners. 2. Coal mines being shut by pickets is not big news.
---------------------------------

People discussed bombing car loads of children on their way to school; men stopped school buses and threatened to blow them up with drums of gasoline. Garland, Gregg. "Niles Teachers Hear 'Horror Stories' of Censorship". Tribune Chronicle June 18, 1977: 11
This is a statement made by Nell Wood to a group of Ohio teachers. Wood was the chairman of the committee of five white female teachers that selected the protested books. Mrs. Wood was filled with hate toward the protesters in 1974 and her hatred had not subsided in 2009. She referred to the protesters as "stupid") in the radio documentary "The Great Textbook War" (point 47:00 at http://americanradioworks.publicradio.org/features/textbooks/). In the same program she complained that no one ever wanted to hear her opinion (point 49:45 of original version—not on the website version). That claim is disproven by this incident and others cited on page 180 of Protester Voices—The 1974 Textbook Tea Party. This particular statement, which was the lead to the article, is a mixture of blatant misrepresentations of the truth and hyperbole. Two fools did discuss how to rig a car to explode. Nothing was mentioned about it being "loaded" with kids. Any rational protester (which consisted of 99.99999% of them) was angered that such atrocious conversation ever occurred. I know of no reports that a protester ever stopped a school bus other than pickets at garages. The "drums of gasoline" threat is astoundingly not true. Wood went on to say, "(B)oard of education meetings were dangerous to attend at the time of the protests (sic) and...the county's superintendent was attacked following one meeting, suffering permanent hearing loss as a result." That was the only violent incident that occurred at a board meeting. I was present. No one, except the target was in danger. The hearing damage occurred to an assistant superintendant who tried to intervene. The superintendant, according to his own words, entered into the fight of his free will (point 40:30). The real danger occurred in 2003 when " A school board meeting erupted in violence Thursday when a school maintenance worker doused two audience members with gasoline, then fired several shots from an assault-style rifle, wounding one person." (http://articles.chicagotribune.com/2003-07-18/news/0307180312_1_richard-dean-rusty-bright-kanawha-county-board-school-board-meeting) In fact the whole Kanawha County school system spiraled down into violence after the liberal policies advocated by Mrs. Wood became policy. That is documented in West Virginia School News.
---------------------------------
It was a single stick of dynamite tossed through a window of the Midway Elementary School on Campbells Creek Road at 3:330 one morning last week, and it caused only about $1,500 worth of damage. But the explosion, plus a renewed school boycott and a desperate trip to Washington, all served notice that the textbook trouble in Kanawha County, W. Va., will still be around for some time. "Back to the Boycott." TIME November 4, 1974: 88-90
TIME unwittingly made a good point regarding the monetary damage. See the section under "The serious violence that can be connected to protester sympathizers was more like vandalism" above. It should be noted that when the TIME article appeared, there was no evidence of who was responsible for the vandalism. That did not stop TIME from opening the article with the information which, in context, painted the protesters as guilty. The complete story of why that violence occurred is not a simple matter.
In fact, the Rev. Charles Quigley of the Cathedral of Prayer publicly proclaimed a death curse on three of the school board members. One of them, Board President Albert Anson Jr., has already resigned in despair over the deadlock. Kenneth Underwood, the school superintendent, was so upset by death threats that he and his family occasionally moved into hiding. "Back to the Boycott." TIME November 4, 1974: 88-90
TIME magazine could easily compete for the Most Biased Media prize of 1974-75. As explained on page 60 of Protester Voices—The 1974 Textbook Tea Party Pastor Quigley "tried to explain that he was using the analogy that the lives of children were more valuable than those adults and that he was warning them, based upon biblical history, of what could happen." You can read a detailed explanation in Pastor Quigley's own words on pages 285-286 of Protester Voices—The 1974 Textbook Tea Party. In the same book there is documentation that the protesters received death threats and Alice Moore's house was guarded by an off-duty deputy (pg. 5).
--------------------------------
In the midst of the protests a number of ministers were arrested, allegedly for violating an incredible circuit court injunction by Judge Goad which limited the number of pickets to five. Among those arrested were the Reverends Avis Hill, Ezra Graley Jr., and Charles Quigley. Jail sentences and fines were meted out with an enthusiasm that, had those in the dock been "Liberal" reverends like Fathers Groppi and the Berrigans or the Reverends King, Abernathy, and Shuttlesworth, would have produced headlines from coast to coast. Hoar, William P. "Parents Revolt—When Textbooks are Propaganda." American Opinion Nov. 1974: 11. (
Mr. Hoar is probably the only conservative writer quoted on these pages. His comments are insightful.
--------------------------------
Watras, Joseph. "The textbook Dispute in West Virginia, A New Form of Oppression." Educational Leadership October 1975: 21-23. The article (quoted on other pages) had one half-page photo of a classroom damaged by a dynamite blast. The photo had nothing to do with the context of the article. On page 21, Professor Watras wrote, "Assessing blame will not help us understand what we want schools to do to us or for us." The photo (perhaps picked by his editor) certainly cancels that concept.
--------------------------------

The most notorious protester leader, Marvin Horan, served prison time for his alleged participation in the school bombings, but it is not as simple as liberals want it to be remembered. There is ample evidence that Marvin Horan was framed.
--------------------------------
Paul Boggess of Ruthlawn Elementary noted that the picketers at his school remained universally cordial. Laats, Adam. The Other School Reformers-Conservative Activism in American Education. Cambridge, MA: Harvard University Press, 2015: 216
Also see the comprehensive review of The Other School Reformers-Conservative Activism in American Education.
--------------------------------
Since school buses became regular targets of gunfire, armed sheriff's deputies filled in for school bus drivers. Even police cars escorting school buses received gunfire on a least one occasion. Laats, Adam. The Other School Reformers-Conservative Activism in American Education. Cambridge, MA: Harvard University Press, 2015: 214-215
Taking this incendiary hyperbole in reverse order: (1) No one was ever charged. The culprits have easily have been fired by either a protest sympathizer, prankster, or pro-booker to make the protesters look bad. (2) According to the citation Dr. Laats proved (Bob Adams, "Textbook Protest Violence Mounting," Charleston Daily Mail, November 12, 1974, 1.) the deputies drove the buses because drivers refused to cross picket lines at one bus garage. That casts a whole different light on the incident. There were many instances of union members honoring picket lines throughout the protest, and it was typical behavior for unions. Page one of the September 10, 1974 Charleston Daily Mail had a top of the page six column article about Kanawha Valley Regional Authority (KRT public transit) drivers refusing to work when pickets showed up. The same issue (1B) had a headline "City Bus Drivers Support Protest" showing drivers picketing the Board of Education. It is easy to cite other examples of local union members refusing to cross picket lines. Regarding the city KRT pickets. The Charleston Gazette (9-11-74, 1D) had a picture of pickets. It was a woman and a boy of about age six! See for yourselves the people who were typical pickets. The "tough guys" were the minute exceptions!
--------------------------------
By late September, he (Underwood) had moved his family out of their home. Laats, Adam. The Other School Reformers-Conservative Activism in American Education. Cambridge, MA: Harvard University Press, 2015: 212
The article Dr. Laats used to make his claim is "Dr. Kenneth Underwood: The Man in the Middle", (Charleston Daily Mail, Sept. 19, 1974, pg. 1D). I encourage you to read it with an open mind. Besides that it is not "late September" there are some major misinterpretations and exaggerations. Dr. Underwood said that his phones (office and home) had rung "incessantly." He said, "During the last two weeks. I'd say I spent 80 per cent of my time on the phone. The reality was that people were mostly, at worse, pestering him. He said that he went to his office and walked in and out the front door. The police and he decided "it would be best for (him) not to be around where protesters gathered." He did mention one call that threatened him and his kids. According to the article, the Underwood family was back in their home.
--------------------------------

On page 30 of Protestor Voices: The 1974 Textbook Tea Party the fact that "The Textbook Protesters were like puppies compared to 2009 leftists." Read the book for details. In 2016 some American Indians got on the warpath over a pipeline. "The protests are in fact riots, says Cass County Sheriff Paul Laney, who is coordinating the police response. "When you have that many people engaged in that kind of behavior, inciting others to break the law, cheering others on as they do break the law, refusing to leave when they're asked to leave, that's not a protest," Laney said at a recent news conference." (http://www.latimes.com/nation/la-na-pipeline-protest-20161024-snap-story.html) There was no media criticism of the Indians' riotous behavior.
--------------------------------
"Protesters stoned the houses and broke car windows of parents who defied the boycott and sent their children and sent their children to school. Teachers and administrators were repeatedly threatened. Shots were fired into a car belonging to the president of the Classroom Teachers Association."
Martin, William. With God on Our Side. New York: Broadway Books, 1996: 129 (Chapter 5: "The Culture War")
Unless proof is provided, those claims are lies. Alice Moore told me "I am sure it would have been a major discussion among the board members if true."
--------------------------------
"And someone set off fifteen sticks of dynamite under the gas meter at the school board meeting just minutes after Underwood and the school board left."
Martin, William. With God on Our Side. New York: Broadway Books, 1996: 129 (Chapter 5: "The Culture War")
To his credit, Mr. Martin did quote Alice Moore's response. "(I)t was played up as if textbook protesters were trying to kill the superintendent, but nobody knows who set that off. I was at the meeting. Were they trying to kill me? The papers didn't report that I was there. There was some troublemaking going on, some of it to give the protesters a bad name, but the violence got played up out of proportion to what was taking place there."
--------------------------------
In 2015 Marshall University Libraries and the American Civil Liberties Union had a program to observe "Banned Books Week." The event was a vicious attack on the Protesters with the usual exaggerated and false slurs such as: "These protests quickly became unruly and violent, many school buildings, school busses (sic) and homes of children still attending school were attacked with bombs, gunfire and even stoned." The bald-faced lie about the homes of children is a new one to me and I thought I had heard them all.
(Banned Books Week: The Great Textbook War Lecture by Kelsie Lively , reporter (for the student newspaper) September 30, 2015https://marshallparthenon.com/6149/news/banned-books-week-the-great-textbook-war-lecture/)

For more about Marshall, see "Marshall Exposed."
--------------------------------
See the addendum to 'Godless Books': The 1974 Kanawha County Textbook Controversy for more points that confirm the Kanawha County Textbook Protesters were not violent.
*Pro-bookers is a non-complimentary term I use in Protester Voices—The 1974 Textbook Tea P arty.
---------------------------------
---------------------------------
This page is based upon points made in a Powerpoint presentation which was prepared to portray the truth about the 1974 textbook protesters to parry the pompous people who have poured propaganda into the public's perception. Some of the material was overlooked or unavailable when the protesters' book was being researched. More detailed material can be obtained from Protester Voices: The 1974 Textbook Tea Party. That is a book liberals do not want anyone to read!
The TRUTH is that the Kanawha Coutny Textbook Protesters were true patriots and heroes. They consisted of thousands of humble people who have suffered humiliation because they stood up for children and America in 1974. The Kanawha County Textbook Protesters deserve to be honored.
For documented facts that the Courageous Corps of '74 were aso NOT NARROW-MINDED, NOT IGNORANT, NOT RELIGIOUS FANATICS, NOT CENSORS, and NOT RACIST--click on each slur. Also, please see PERTINENT POINTS which do not fit the slur categories. Note: Some items may apply to more than one category. In that case the item is placed arbitrarily into whatever I feel is the best fit. The anchor for these particular pages is "The Facts".
A detailed example of how propagandists disguised as professors have passed deception down the line since 1974 is in "A Tale of Three Tiny Tomes".
A video is worth a million words. A video is worth a million words. See Textbook War videos and see if you believe your lying eyes and ears.
TEXTBOOK PROTESTER TRUTH MAIN PAGE