Legacy
---
HOLD THE LINE (AGAIN)
By Karl C. Priest
TO AMERICAN PATRIOTS: We must stand against the attack on America from within. For dozens of days, until the November election, let's pave* the highways of America, from coast to coast and border to border, with lots of folks (veterans and non-vets) holding pro-America signs and waving Old Glory! Three old patriotic American veterans ask you to extend what they started.
Please use THIS LINK to share with your contacts and let's make it go viral. THANK YOU.
Go straight to the most recent entry)
(MISSION PREPARATION and OUR VALUES are at the bottom.)
AFTER ACTION REPORTS
6 July 2020
Rick gave a powerful prayer before we went to our posts.
Pat showed up to encourage me and Rick and she did a great job. Despite health issues she stood with us in the heat for about 30 minutes and she enthusiastically greeted passing motorists. I saluted the many horn honks. Rick nodded to indicate his appreciation.
If anyone flipped us off or gave a thumbs down, I could not see it due to the sun's glare on the windshields.
Rick is 73 and I am less than 30 days from being 72. The sweat rolled down my torso to my belt. There was no cloud cover. Here is how Rick looked after standing his post for an hour.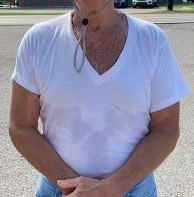 Pat suggested we have an observer and she is right, but God will have to take care of that. If you read how vicious the liberals were in 2004 you can understand our trepidation.
I had the closing prayer.
When I got into my truck to leave the temperate was 92 degrees.
Our signs: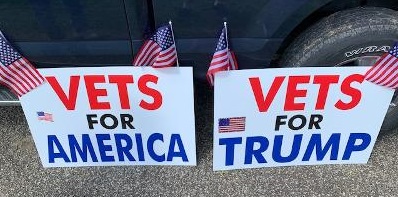 Today, three old vets, started to pave* America with patriots declaring their dedication to God and country.
*PAVE: Patriotic American Vets' Expression/Patriotic Americans' for Victory Expression.
PAVE squads [about 10 people (2 can "git er done")] can "claim" a spot on a busy street and post there at least once a week for an hour (longer is OK). Each squad will set its own strategy. There will be no official organization. We encourage support for police, the Constitution, veterans, conservative and biblical values, President Trump (God gave us Donald Trump. Like David and Moses, he is not perfect.), and ALL (including the aborted blacks and black on black murders) black lives matter.
For questions and suggestions, email me at coldwarvet68@aol.com.
Please let me know about your PAVE squad.
15 July 2020
I had so many excuses not to go, but the spirit said, "Duty calls."
It was just Rick and me. Rick was suffering from back pain.
Before we prayed, he told me that a woman had yelled "F**K YOU" at him when we posted last week.
I did several, spread out, ten car counts of drivers that honked. It was about 30% favorable.
After we prayed, and I got in the truck it was 95 degrees.
We had some new signs and had a container holding some flags in case anyone wanted to join with us.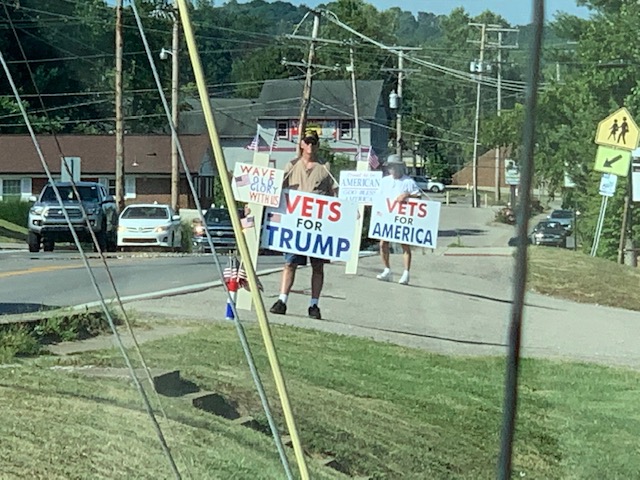 22 July 2020
Rick was delayed so we posted late and only stood for about forty minutes. The temperature was in the high 80's, but there was cloud cover and a good breeze. The horn honking was similar to last week.
We would love for folks (vet and non-vet) to join us. We would love for squads to rise up all across America. But, that is out of our hands. We will do our duty. If the Left wins, America is doomed.
About five minutes after we left, a severe rainstorm struck.
31 July 2020
After delays due to a VA appointment and heavy rain we posted on a cloudy 82 degree Friday.
This was the first time that I was able to easily see inside every windshield and I was happy to see that many people waved, gave a thumbs-up, or other hand signal of approval. I did not do any random counts, but my guess is the honks and waves were at least 50%. We saw one middle aged woman give us the middle finger and two young males give us thumbs down.
Rich came at 1700 (5:00 PM) and his presence was a blessing.
Rich is an Army vet who did some classified technical stuff on airplanes in Central America. Rick did two tours in Vietnam, and I was a flunky on the most important ship in the Navy in the late 60s.
Of course, there is almost zero (and that is putting a positive spin on it) change the local media will cover this obviously news worthy activity. I sent news tips to Brietbart, FOXNews, and NewsMax. We shall see.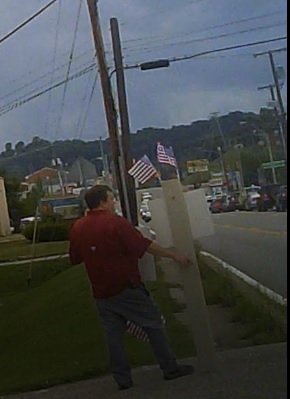 Rich on Post
6 August 2020
Rick, Rich, and I stood post on a fairly nice day.
Steve, an Army vet, came out and waved flags like a Navy signalman. He is having major surgery tomorrow. Please pray for Steve.
One woman, in the passenger seat, drove by with her arms extended out the window applauding.
A lady, wearing a "Trump 2020" face mask stopped and said she would join us next week. Her father is a Korean War vet. She is going to ask her uncle to come. She told me that the guy who sells the "Trump 2020" face masks, from his truck right down the street, said he sells out quickly.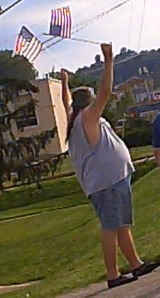 Steve waving Old Glories
11 August 2020
It was Rick (USAF vet), Rich (USA vet), and me (USNR vet). We sure would like to have a USMC vet stand with us.
The first 45 minutes were pleasant and I could easily see through the windshields. The last 15 minutes was more scorching sun.
I held a "Honk for Trump" sign. There were more honks than previous and many waved without honking. My unscientific estimation is that way less than 5% are Trump haters (based on thumbs-down and other gestures) and about 45% are unashamedly pro-Trump. The rest are either too lazy, too pre-occupied, or too terrified to express their support for President Trump. I wonder how that compares across the nation.
A man in his 30s came across the street, from where he had parked, and offered to buy one of the flags we have in a canister hoping folks will join us waving Old Glories. He offered five bucks. I gave him one for free and told him that we would love for him to join us waving the flag. He said he was too busy building his house. That made me think that nationally folks may be building the future of America on a sand foundation.
One (probably a public school product) young white female gave us the middle finger as she passed by.
Two (probably public school products) young white males pulled into a parking lot across the street and screamed obscenities at us. The passenger stood on the floorboard and pointed his phone at us. I assume it was for video or photo purposes. The term "Antifa" crossed my mind.
If you will not PAVE with us, please pray for us.
18 August 2020
Rick and I stood alone today. Early on, a sweat bee buzzed me for about ten minutes.
The temperature was pleasant with a heavy cloud cover. We went on post five minutes early and stood the full hour. After about 30 minutes there were serious lightning flashes to the west. The rain began slowly and the last ten minutes it was a steady downpour. I got a little wet using an umbrella. Rick turned down the offer of his own umbrella and was drenched. He said that it felt "good."
We only held our two signs (no posts): "Vets for Trump" and Vets for America." I did five random ten car counts (horns and positive gestures) and it was 60% favorable for Trump. We did not hold the "Honk for Trump" sign. The negative gestures and shouts could be counted on one hand. One guy screamed "F--- Trump twice as he passed."
We two old vets call upon young vets (and non-vet supporters) to make PAVE go viral across America.
25 August 2020
My back had been hurting for several days and a "Severe Weather" alert came out just before I left the house. Those would be good excuses not to go. I went. The back hurt the same as it would have had I stayed home and the severe storm hit an hour after I got home.
It was another one of those "sweat rolling down my torso" days with a bright sun making it difficult to see in the vehicle windows. There may have been more honking than last week. I did not make any ten-car counts. This was the second day of the Republican National convention.
Rick and I tried hanging signs on our backs for viewing by traffic moving in the other direction. We need to work on that, because they were difficult to control in the breeze. I held a small flag in my right hand and waved it for honks and any positive gestures I saw.
The driver of a car, with two males of African descent, screamed "NO!" several times and made some other comments I could not distinguish.
A woman, of European descent (middle-age or older), stopped her car in moving traffic (blocking those behind her) and yelled some anti-Trump stuff that I could not distinguish. I yelled three times, "God bless America!" If I can find anything on my camera, I may post something on YouTube. If I do, I will update this AAR.
On a brighter note, a marked police car sounded his "attention" siren when passing. I had forgotten that an unmarked car had done the same on a previous day.
1 September 2020
I didn't check the temperature when I arrived at our post, but going home it was 89 degrees. During the entire post, sweat rolled down my back due to the humidity.
The previous days were full of news of the violence (such as this one) perpetuated against Trump supporters (and general patriotic Americans) by the Demoncrat (spelling intentional) vile, vicious Marxists intent on destroying America.
Today, I used a 6 ft. piece of rebar, pounded into the ground, to support our "Wave Old Glory with Us" sign mounted on the piece of fence. This gave us a third sign holder to "stand" with Rick and me. Rick wore his new Air Force Veteran ball cap.
A lawn care contractor parked in the lot where we park and loaded up his backpack with weed-killer spray. He started along the curb in front of where I was standing and the wind forced me to hold my breath and back way up.
As I stood on post I was tempted to be angry that it appears that others have not joined us. In a few minutes a lady pulled into the parking area. She had been passing by, saw us, and drove around the block to talk to us. She had lots of Trump signs and four to each of us. One says, "Trump, Trump He's Our Man." I gave her a card and asked her to spread the word. It would be wonderful to have some peppy flag wavers with us.
8 September 2020
It was a horn honking hour.
Since we cannot hold all of the signs we want, we set up two signs in front of our usual "Wave Old Glory with Us" sign. (See below.) The first one was "Honk for Trump". There was more honking today. I would love to hear more.
Today, there was much negative news about how President Trump had supposedly disrespected veterans. A Google search for an objective report only brought up several pages of liberal media claiming the anonymous accusations were true.
A real liberal parked beside our vehicles and spoke first to Rick and then with me. I call him a "real" liberal because he was respectful (I thanked him for that.) and listened to counterpoints to his arguments. Old school liberalism has now become Leftism and is evil. This rare liberal calmly asked why we supported Trump based upon the current news. I told him he needed to use some news source besides the anti-Trump media. He claimed FOX was reporting it. I countered that FOX has some issues. I failed to note that just reporting the story, does not indicated believe that the story is factual.
He asked why we supported a draft dodger. Before I could reply, he admitted that Clinton was one. I would have said that there are lots of men who do not want to serve in the military and still respect and support the military. I did ask him what he thought about George W. Bush. He said that he respected Bush. I asked him if he preferred a Biden or a Trump America. He responded that he preferred an Obama America. I told him that Obama is still fighting to control America as part of the clique (swamp) and that Trump is not in the clique. I made sure he knew that I have always been a registered Independent and think the Democrat and Republican Parties are (as a friend says) "two wings of the same bird flying in the wrong direction."
It was difficult to carry on a conversation because of the frequent "Honks for Trump."
Would a President who does not respect the military go to these lengths to visit a combat zone? Here is "The truth is President Trump is making sure the government fulfills its commitment to our country's Veterans."
It was a cloudless, humid, scorcher of a day. After we prayed and chatted about the sorry state of America spiritually and politically for about 15 minutes, my truck thermometer read 87 degrees at about 5:45 PM (1745) EDT.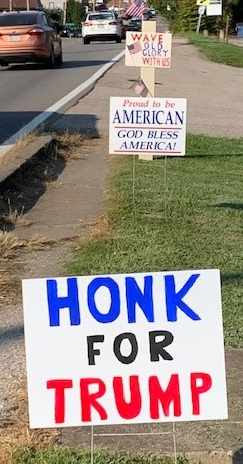 15 September 2020
Crazy things are happening in our country and it is not due to conservatives. Disruptions, destruction, and demonic demonstrations are due to Democrats. Nevertheless, America is the greatest nation ever. The past weeks American citizens have faced many difficulties. We want to cheer up our fellow Americans. We love America!
No sweat today-as in, the kind that has been running down my torso when we post for PAVE. It was a comfortable 75 degrees. I did not wear my sunglasses. It was still impossible to see in many windshields. I saw dozens of positive gestures and two thumbs down. One guy kept his middle finger up with his arm extended out the window. There were about three F--- Trumps and one F--- You. The horn honks were fabulous, but my goal is for 75% of those passing to honk. That may be a challenge because conservatives tend to be too polite.
A guy came by on the sidewalk riding a handicapped electric vehicle. He laid on his horn for over a minute. He blessed us.
I put up some signs, in back of the truck, that our AWOL patriots should be holding.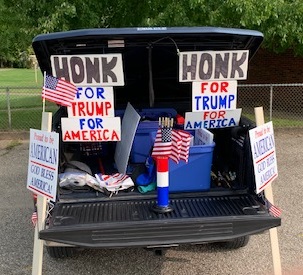 I took a photo facing south with traffic head up at a stop light.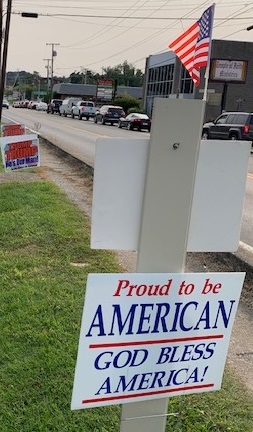 Weather-wise, it was wonderful. Otherwise, it was outstanding.
Rick got delayed, so I stood sentry alone for the first twenty minutes. My ear was heavily bandaged due to a cancer spot removal yesterday afternoon.
As I unpacked, a very nice lady (appearing to be in her mid-twenties) pulled in beside me and we had a respectful conversation. She said she was a Christian, a Republican, and the daughter of an Army veteran. She wanted to know why we (vets) were supporting Trump after the hateful things Trump said about veterans. I informed her that the accusation was false. "How do you know?" I responded, "Because people who were there said they did not hear it and John Bolton, who is not Trump's friend, said he did not hear Trump say it." She said, "I believe, in my heart, that he (Trump) did say it."*
She put forth the usual liberal propaganda against Trump. I suggested she check out sources that are not mainstream and pointed out (Marine Corps veteran) Bishop E. W. Jackson of "The Awakening." She said that she would check him out.
I thanked her for taking time to talk politely to me because most people on her side usually flip me off or scream profanities.
Our conversation is what America should be about--agreeable disagreement.
As always, folks kept honking as Rick and I packed up, held our closing prayer, and chatted awhile. WOW and PTL!
*When I got home, I tried to Google facts about the accusations that President Trump denigrated veterans. I got over a dozen pages from leftist/liberal sources. It is no wonder that people believe it. The so-called "mainstream" media are propaganda tools for the liberal/left.
Why no other patriots (especially veterans) have joined us could be due to lack of time (a poor excuse), timidity (God can take care of that), or even terror (due to the vicious actions of Biden supporters across the nation). We will do our duty.
WE HAVE ENOUGH SIGNS AND FLAGS FOR AT LEAST 20 PATRIOTS.
We really need a spotter who can be inconspicuous with a camera and phone.

We are not affiliated with (but we highly recommend) a national group called VETS FOR TRUMP.
--------------------------------
MISSION PREPARATION
5 July 2020
In 2004 some Charleston, WV area veterans held the line to persuade other citizens not to elect a traitor for president. Now, America faces an even more serious presidential election. Joe Biden is worse than a traitor. He will make America socialist and ultimately destroy America as we know her today.
The enemies from within fought to ruin President Donald Trump for his entire first presidency and, in early 2020, they fanatically began using whatever weapons of propaganda they had to prevent his reelection.
I had some good excuses not to stand against these Marxist enemies of America. I was dealing with a leaking roof and a busted, very long, water line. Surely, I thought, someone else will hold the line.
My conscious and patriotism urged me to take a stand. I called my friend Rick. During his two tours in Vietnam, he took a piece of shrapnel, and went on to his post. Rick was ready to roll. I put out the word to some of the 2004 vets who held the line and did not get a commitment.
Sunday, July 5, I heard a sermon (http://www.calbapt.org/calvary-baptist-church-video-archives.html) and God used it to confirm His direction to stand against the evil insurrection that is going on. The preacher said, "We are either going to have revival or revolution." AMEN!
He said that only God can bring a revival. I agree and add, that we need a revival of American constitutional values. In America today it will also take God for that kind of revival. But God, uses people and almost always it is just common people.
The Bible text for the sermon was Jeremiah 18:1-10.
The pastor quoted Proverbs 29:2 in his remarks: "When the righteous are in authority, the people rejoice: but when the wicked beareth rule, the people mourn."
He also mentioned II Chronicles 7:14: "If my people, which are called by my name, shall humble themselves, and pray, and seek my face, and turn from their wicked ways; then will I hear from heaven, and will forgive their sin, and will heal their land."
We must do as God guides us while looking to that Eastern Sky: "For as the lightning cometh out of the east, and shineth even unto the west; so shall also the coming of the Son of man be." Matthew 24:27
I posted the following (along with the above mention of the sermon) to email contacts.
Putting aside lots of legitimate excuses not to do anything, I am going to try to start a Hold the Line movement across America.
See the top of https://coldwarveteran.us/ for an announcement you can share.
At 4:30 PM EDT on Monday (July 6) a veteran friend and I will be at 5525 Big Tyler Drive in Cross Lanes, WV.
Your prayers are appreciated.
6 July 2020
There is much trepidation after seeing non-mainstream news reports of the violence engaged by America haters over the 4th of July weekend.
OUR VALUES
>America is the greatest nation ever. The past year American citizens have faced many difficulties. We want to cheer up our fellow Americans. We love America!
>God gave us Donald Trump. Like David and Moses, he is not perfect.
>COVID-19 is real, but is politicized to keep America weak.
>ALL (including the aborted blacks, black on black murders, conservative blacks, and Nigerian Christian) black lives matter.
>We love LEGAL immigrants.
>We support the police and dealing with the rare rogues.
>America's youth have been indoctrinated into leftism-socialism-communism from pre-K through college.
>Antifa is anti-America.
>Riots and property destruction are not protected protests.
>The real fascists are the ones accusing conservatives of being fascists.
>The Civil War is not a simple part of history.
>Removal of monuments should be done through official channels and peacefully.
>The Constitution is a great document.
>Neither political party is above the Constitution.
>Neither political party is more important than America.
>We are pro-science especially on human life, "race", genders, evolution, and climate change.
>Much of media are an arm of the Democratic Party.
>Our values are common sense conservative.
>The Bible and the Ten Commandments are the solution to the world's problems.