Legacy
---
HOLD THE LINE (AGAIN)
By Karl C. Priest
TO AMERICAN PATRIOTS: We must stand against the attack on America from within. For dozens of days, until the November election, let's pave* the highways of America, from coast to coast and border to border, with lots of folks (veterans and non-vets) holding pro-America signs and waving Old Glory! Three old patriotic American veterans ask you to extend what they started.
MISSION PREPARATION (BELOW)
AFTER ACTION REPORTS
6 July 2020
Rick gave a powerful prayer before we went to our posts.
Pat showed up to encourage me and Rick and she did a great job. Despite health issues she stood with us in the heat for about 30 minutes and she enthusiastically greeted passing motorists. I saluted the many horn honks. Rick nodded to indicate his appreciation.
If anyone flipped us off or gave a thumbs down, I could not see it due to the sun's glare on the windshields.
Rick is 73 and I am less than 30 days from being 72. The sweat rolled down my torso to my belt. There was no cloud cover. Here is how Rick looked after standing his post for an hour.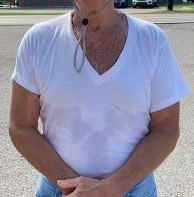 Pat suggested we have an observer and she is right, but God will have to take care of that. If you read how vicious the liberals were in 2004 you can understand our trepidation.
I had the closing prayer.
When I got into my truck to leave the temperate was 92 degrees.
Our signs: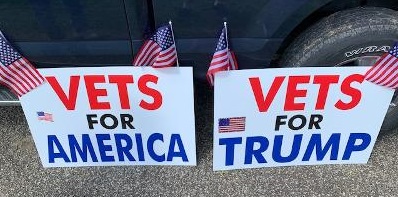 Today, three old vets, started to pave* America with patriots declaring their dedication to God and country.
*PAVE: Patriotic American Vets' Expression/Patriotic Americans' for Victory Expression.
PAVE squads [about 10 people (2 can "git er done")] can "claim" a spot on a busy street and post there at least once a week for an hour (longer is OK). Each squad will set its own strategy. There will be no official organization. We encourage support for police, the Constitution, conservative and biblical values, President Trump (God gave us Donald Trump. Like David and Moses, he is not perfect.), and ALL (including the aborted blacks and black on black murders) black lives matter.
For questions and suggestions, email me at coldwarvet68@aol.com.
15 July 2020
I had so many excuses not to go, but the spirit said, "Duty calls."
It was just Rick and me. Rick was suffering from back pain.
Before we prayed, he told me that a woman had yelled "F**K YOU" at him when we posted last week.
I did several, spread out, ten car counts of drivers that honked. It was about 30%.
After we prayed, and I got in the truck it was 95 degrees.
We had some new signs and had a container holding some flags in case anyone wanted to join with us.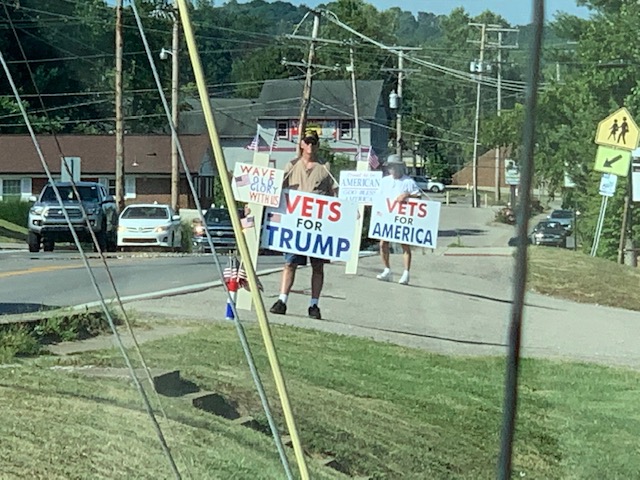 22 July 2020
Rick was delayed so we posted late and only stood for about forty minutes. The temperature was in the high 80's, but there was cloud cover and a good breeze. The horn honking was similar to last week.
We would love for folks (vet and non-vet) to join us. We would love for squads to rise up all across America. But, that is out of our hands. We will do our duty. If the Left wins, America is doomed.
About five minutes after we left, a severe rainstorm struck.
31 July 2020
After delays due to a VA appointment and heavy rain we posted on a cloudy 82 degree Friday.
This was the first time that I was able to easily see inside every windshield and I was happy to see that many people waved, gave a thumbs-up, or other hand signal of approval. I did not do any random counts, but my guess is the honks and waves were at least 50%. We saw one middle aged woman give us the middle finger and two young males give us thumbs down.
Rich came at 1700 (5:00 PM) and his presence was a blessing.
Rich is an Army vet who did some classified technical stuff on airplanes in Central America. Rick did two tours in Vietnam, and I was a flunky on the most important ship in the Navy in the late 60s.
Of course, there is almost zero (and that is putting a positive spin on it) change the local media will cover this obviously news worthy activity. I sent news tips to Brietbart, FOXNews, and NewsMax. We shall see.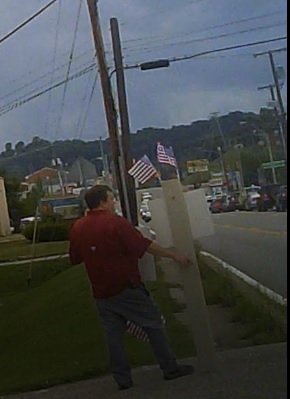 Rich on Post
MISSION PREPARATION
5 July 2020
In 2004 some Charleston, WV area veterans held the line to persuade other citizens not to elect a traitor for president. Now, America faces an even more serious presidential election. Joe Biden is worse than a traitor. He will make America socialist and ultimately destroy America as we know her today.
The enemies from within fought to ruin President Donald Trump for his entire first presidency and, in early 2020, they fanatically began using whatever weapons of propaganda they had to prevent his reelection.
I had some good excuses not to stand against these Marxist enemies of America. I was dealing with a leaking roof and a busted, very long, water line. Surely, I thought, someone else will hold the line.
My conscious ant patriotism urged me to take a stand. I called my friend Rick. During his two tours in Vietnam, he took a piece of shrapnel, and went on to his post. Rick was ready to roll. I put out the word to some of the 2004 vets who held the line and did not get a commitment.
Sunday, July 5, I heard a sermon (http://www.calbapt.org/calvary-baptist-church-video-archives.html) and God used it to confirm His direction to stand against the evil insurrection that is going on. The preacher said, "We are either going to have revival or revolution." AMEN!
He said that only God can bring a revival. I agree and add, that we need a revival of American constitutional values. In America today it will also take God for that kind of revival. But God, uses people and almost always it is just common people.
The Bible text for the sermon was Jeremiah 18:1-10.
The pastor quoted Proverbs 29:2 in his remarks: "When the righteous are in authority, the people rejoice: but when the wicked beareth rule, the people mourn."
He also mentioned II Chronicles 7:14: "If my people, which are called by my name, shall humble themselves, and pray, and seek my face, and turn from their wicked ways; then will I hear from heaven, and will forgive their sin, and will heal their land."
We must do as God guides us while looking to that Eastern Sky: "For as the lightning cometh out of the east, and shineth even unto the west; so shall also the coming of the Son of man be." Matthew 24:27
I posted the following (along with the above mention of the sermon) to email contacts.
Putting aside lots of legitimate excuses not to do anything, I am going to try to start a Hold the Line movement across America.
See the top of https://coldwarveteran.us/ for an announcement you can share.
At 4:30 PM EDT on Monday (July 6) a veteran friend and I will be at 5525 Big Tyler Drive in Cross Lanes, WV.
Your prayers are appreciated.
6 July 2020
There is much trepidation after seeing non-mainstream news reports of the violence engaged by America haters over the 4th of July weekend.